Sights in Space!
With the recent geomagnetic storm, Auroras have been appearing throughout the overnight.  This time, the auroras were visible as far south as Missouri, usually they are only visible in the far northern latitudes.  Current viewable areas:
There was speculation that there maybe disruptions to the earth's magnetic field and potential even affect cell service and GPS devices.  Results of this disruption from Spaceweather.com:
"The arrival of the CME shook Earth's magnetic field, which in turn induced electrical currents in the ground at Arctic latitudes. Rob Stammes measured the effect from his magnetic observatory in Lofoten, Norway: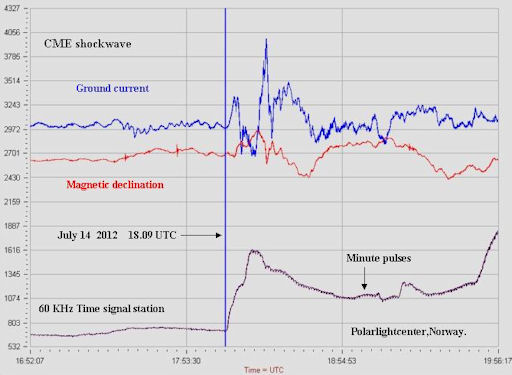 Stammes has observed many CME strikes from his laboratory at the Polar Light Center. He says this one was not particularly strong, at least in terms of ground currents. Relatively weak ground currents are consistent with the muted displays of auroras in the aftermath of the strike."
The Northern Lights from the foot of Lake McDonald around 11:30pm on July 14th.
Picture From Bob Conzemius on Facebook from northern Minnesota
Planet Conjunction
Sometimes it seems that my toddler will only eat certain vegetables when the planets are aligned.  Well, the stars aligned last night to form a triangle so I am holding out hope that broccoli will the favorite item at dinner tonight.
Picture and story below from news.com.au:
"This picture, taken as dawn broke over Sydney, does not do justice to the stunning sight of Venus and Jupiter, which we will not see again so close together for the next few years. However, the good news for budding astronomers who may have missed the early morning show, is the best is yet to come. Because of the rare alignment of the moon with the two planets – tomorrow will be the clearest display yet.  Allan Kreuiter, Astronomy Educator Sydney Observatory, which is part of the Powerhouse Museum said: "If you look to the north-east before sunrise you will see the spectacular sight. "The two planets are at their brightest and you will also see other bright stars."The best time to look will be around 6am and you will see the crescent moon low to the horizon, directly above it is the brightest planet Venus. Above Venus and to the left is the largest of the planets, Jupiter which will appear slightly dimmer. Just above them both will be the bright star Aldebaran.""
What a Mess!
I just feel for these people stuck in this traffic nightmare.  Flooding roadways due to heavy monsoonal rain has led to this situation in Val Vista, AZ.  A true test of patience.
Interesting (?) Idea
These guys may have been inspired by the movie "Up" when creating this flying device.  The flight plan was put to halt, however, when thunderstorms threatened to bring hail to the balloons.
From the AP: " Two men who were trying to fly from Central Oregon to Montana in tandem lawn chairs suspended from party balloons are back on land after having to abort the flight due to thunderstorms. They landed about 30 miles east of their starting point. (July 14)"

Northwest Storms
It isn't all that often that we are talking about severe weather in the Northwest.  But yesterday there were a couple reports of hail damage and wind damage as well as several thunderstorms with lightning.  One of those storms caused some trouble at a Rodeo in Montana.
Picture from: dutch-e.com
From the Missoulian: "A cowboy and two spectators were taken by ambulance to a Hamilton hospital Saturday night after lightning hit a power pole at the Elite Bull Connection, sending an electric shock through the grandstands, rodeo chutes and bull pens. "It hit that one light pole and came down, and everything was so wet, it went in every direction," said Cal Ruark, the Bull-O-Rama's chairman. "I'm telling you what. It was deafening almost when it hit." Miraculously, everyone survived the lightning's strike, he said. "Everyone is accounted for, and as far as we know there is nothing life-threatening at this point. Thank goodness. That's the important thing." All three people taken to Marcus Daly Memorial Hospital were alert and conscious when they were loaded into ambulances, Ruark said. Sixty bull riders and probably 1,000 spectators were in the rodeo arena and grandstands when a thunderstorm rolled in from the south and pummeled Darby, drenching the grounds. Then came the lightning. One bolt struck directly across the river. The second strike hit the Bull-O-Rama."
Enjoy the rest of the weekend!
Meteorologist Gretchen Mishek
"As of Tuesday, 61% of land in the lower 48 states was experiencing drought conditions — stretching from Nevada to South Carolina — the highest percentage in the 12-year record of the U.S. Drought Monitor….Villwock says the drought is already larger in scope than in 1988, and he fears it will intensify to become worse. Many areas in the southern Midwest are reporting the poorest conditions for June since 1988." – from a CNN article below.
Giant Solar Storm Barreling Toward Our Planet No Big Deal, Say Space Weather Forecaster (Video). Yeah – so don't sweat the heat index ok? Details from The Christian Science Monitor: "A solar storm was due to arrive Saturday morning and last through Sunday, slamming into Earth's magnetic field. Scientists said it will be a minor event, and they have notified power grid operators, airlines and other potentially affected parties. "We don't see any ill effects to any systems," said forecaster Joe Kunches at the U.S. Space Weather Prediction Center in Colorado. There's a bright side to stormy space weather: It tends to spawn colorful northern lights as the charged particles bombard Earth's outer magnetic field. Shimmering auroras may be visible at the United States-Canada border and northern Europe this weekend, Kunches said."
Photo credit above: "This image provided by NASA shows a solar flare, lower center, erupting from the sun on Thursday. Space weather scientists said there should be little impact here on Earth." NASA/AP
18 days/row of 90+ heat at Fort Wayne, a record for consecutive 90-degree days.
Last 2 Weeks – Percentage Of Normal Rainfall. I can't remember seeing this much of a rainfall extreme in the span of 2 weeks. Portions of Texas (near Houston) have seen 6 times more rain than normal in the last 14 days – while no rain has fallen over California (not that unusual for July). But across much of the Corn Belt rainfall has ranged from 0 to 10% of normal since July 1. Map above: NOAA.
1,016 counties in 26 states declared disaster areas, due to severe drought conditions.
40% of America's corn crop described as in "good" condition, according to the USDA.
78% of America's corn-producing counties are in drought. USDA.
Now is when corn farmers most need rain, during the 10-12 day tassling phase.
$2 billion in insurance claims from June fires, floods and severe thunderstorms. Details from madison.com below.
Drought Threatens To Darken Obama's Reelection Plans. Here's an excerpt from The Christian Science Monitor: "A massive drought parching some of America's most productive farm regions is pushing food prices up to the point where wilting corn plants could influence the presidential election. More than 1,000 US counties – many of them in the grain capitals of the Midwest – have applied for federal disaster relief, meaning they've had drought conditions for more than eight weeks. Moreover, 61 percent of the US is now considered drought-stricken, the highest percentage in the 12-year history of the US Drought Monitor. Drought or no drought, the US will still produce about a third of the world's corn and will see its third-largest corn crop ever. Moreover, a drought prognosis by Iowa State University agri-economist Chad Hart suggests that parts of the country – including Georgia and portions of Texas – are likely to see relief as the summer progresses, even as some part of the Midwest may see dry conditions worsen."
Japanese Ordered To Evacuate Flood-Hit Island. This is a remarkable video clip, courtesy of aljazeera.com; here's an excerpt: "Almost a quarter of a million people have been ordered to leave their homes in southwest Japan as heavy rain pounds the area for the third day, leaving at least 20 people dead, officials and reports say. The Japan Meteorological Agency warned of more landslides and floods on the main southern island of Kyushu as rainfall of up to 11 centimetres per hour was recorded early on Saturday. The agency warned that rainfall of up to 80 millimetres per hour could hit parts of northern Kyushu later in the day."
Shelf Cloud. WeatherNation TV meteorologist snapped this photo of a shelf cloud, marking the leading edge of severe straight-line winds, in Urbana, Iowa early Saturday.
Drought Stretches Across America, Threatens Crops. Details from CNN.com: "A dry and mild spring led Don Villwock, like all of Indiana's corn and soybean farmers, to plant two weeks early this year. He was hopeful for a bountiful Labor Day harvest. But the rain didn't fall and June brought blistering heat. Now, as punishing drought grips the Midwest, Villwock, 61, walks his hard-hit 4,000 acres in southwest Indiana in utter dismay. Where there should have been tall, dark green, leafy plants, there now stand corn stalks that are waist high or, at best, chest high. They are pale in color and spindly. Fragile. Tired." (map above: U.S. Department of Agriculture).
2012 Drought Could Stall Mississippi River Barge Traffic. AccuWeather.com has the story; here's an excerpt: "The ongoing drought has river levels along the Mississippi River plunging to very low levels this summer and could stall barge traffic in some areas into the autumn if rainfall does not come soon. It was just last year when levels along the Mississippi River and many of its tributaries were close to record high levels. What a difference a year makes. Falling river levels are not uncommon during the summer months in the central and eastern United States. However, the building drought over much of the middle of the nation currently has the mighty Mississippi running well below normal and levels in many areas are likely to fall through much of the summer, unless widespread rain comes."
Photo credit above: "As levels continue to drop along a long stretch of the Mississippi River in the coming weeks, the risk of grounding incidents will increase." (Photos.com image)
Drought: Natural Disaster Declarations In 26 U.S. States. Details from The Guardian; here's an excerpt: "America declared a natural disaster in more than 1,000 drought-stricken counties in 26 states on Thursday. It was the largest declaration of a national disaster and was intended to speed relief to about a third of the country's farmers and ranchers who are suffering in drought conditions. The declaration from the US department of agriculture includes most of the south-west, which has been scorched by wildfires, parts of the Midwestern corn belt, and the south-east.It was intended to free up funds for farmers whose crops have withered in extreme heatwave conditions linked by scientists to climate change."
Photo credit above: "A tractor ploughs a corn field near Hondo, Texas. Natural disaster has been declared in many areas across the southern United States." Photograph: Eric Gay/AP
5-Day Rainfall Forecast. Soaking, 2-3″+ rains are predicted for Tennessee and Kentucky this week, but the heaviest rains will probably pass just south/east of the corn belt. The Central Plains stay dry, along with the far western USA.  Map: NOAA HPC.

Flooding Threat Not Over Yet For Houston Area. While much of America withers, the rain just won't stop for much of east Texas, in stark contrast to last summer's historic drought. Here's an excerpt from The Houston Chronicle: "Yet another day of widespread rainfall across the Houston area produced the city's most significant flooding in more than two years, prompting rescues from flooded homes and vehicles. The worst flooding was northwest of Houston, where more than 15 inches of rain have fallen during the last five days, driving Cypress Creek well above its flood stage and even higher than during Tropical Storm Allison in 2001. "It's going to get worse before it gets better," said Francisco Sanchez, a Harris County spokesman, as Cypress Creek was still rising Friday afternoon."
Photo credit above: "Janet and Jerry Turner watch and wait to have water removed from their flooded home on Pine Belt on Saturday, July 14, 2012 in Cypress." (Melissa Phillip / Houston Chronicle)
Monsoon Flooding In Phoenix. Tropical moisture surging northward into Arizona sparked serious flash flooding yesterday; details via Facebook: "Watch for high water over roadways!! Turn around, don't drown! (US 60 & Val Vista – csty of ADOT)."
NASA MODIS Image Of The Day: "Emilia"
. Here's a good overview of Pacific Hurricane Emilia from
spaceref.com
: "
The fifth named storm of the 2012 Pacific hurricane season, Emilia quickly became the strongest storm of that season to date, peaking as a Category 4 Hurricane on the Saffir-Simpson hurricane Wind Scale on July 10, 2012. On that day, Hurricane Emilia packed maximum one minute sustained wind speeds of 140 mph and a barometric pressure of 945 mbar. The Moderate Resolution Imaging Spectroradiometer (MODIS) aboard NASA's Aqua satellite captured this true-color image of Hurricane Emilia on July 11, at 2120 UTC (11:20 a.m. EDT)
."
Hurricane Fabio. A Category 2 hurricane, Fabio poses no threat to land. Just our pride.
World's Largest Cocktail
. And where on Earth would you find the world's largest cocktail. No, not Vegas – California! Details from The California State Fair, via
Facebook
: "
Nicora did it! He broke the world record for largest cocktail! Come get your margarita at the fair, either on the rocks straight from the tank or blended from any margarita booth at the fair. How many margaritas do you think this tank holds?
"
Movie Night At Big Island. In spite of lightning nearby a few brave boaters turned out for a screening of "Anchorman" at Big Island, on Lake Minnetonka, just west of Minneapolis. Photo courtesy of Chris Anthony, who's barge held up the screen – no small feat!
______________________________________________________________
ABOUT ME
Welcome to the WeatherNation blog. Every day I sift through hundreds of stories, maps, graphics and meteorological web sites, trying to capture some of the most interesting weather nuggets, the stories behind the forecast. I'll link to stories and share some of the web sites I use. I'm still passionate about the weather, have been ever since Tropical Storm Agnes flooded my home in Lancaster, PA in 1972. I've started 5 weather-related companies. "EarthWatch" created the world's first 3-D weather graphics for TV stations – Steven Spielberg used our software in "Jurassic Park" and "Twister". My last company, "Digital Cyclone", personalized weather for cell phones. "My-Cast" was launched in 2001 and is still going strong on iPhone, Android and Blackberry. I sold DCI to Garmin in 2007 so I could focus on my latest venture: WeatherNation. I also write a daily weather column for The Star Tribune startribune.com/weather And if you're on Twitter, you'll find me @pdouglasweather